Joignez-vous à nous pour souhaiter la bienvenue à Jacqueline et prendre part à sensibiliser la population à notre cause.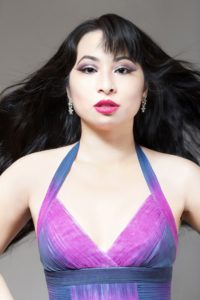 Nous sommes heureux d'accueillir la chanteuse d'opéra canadienne, productrice et porte-parole des personnes ayant une invalidité, Jacqueline Ko, comme ambassadrice des fondations de l'OMF et de l'OMF Canada.
Malgré son combat avec l'EM/SFC, qui l'a confinée au lit durant des années,  Jacqueline a reçu de multiples prix pour ses interprétations en chant. Elle a également été acclamée pour ses rôles à l'opéra, au théâtre, dans des comédies musicales et au cinéma. Elle est aussi la fondatrice et directrice artistique de l'Opéra Mariposa, une organisation  artistique située à Vancouver au Canada, et dirigée par des gens ayant des invalidités, qui m'est à l'affiche des étoiles montantes de l'opéra.
Jacqueline a montré les premiers signes de la maladie à l'âge de 6 ans et a reçu un diagnostic d'EM/SFC à l'âge de 10 ans. Au cours des pires années de sa maladie, c'est sa passion pour la musique qui lui a permis de continuer d'avancer. À l'âge de 17 ans, elle a l'idée de combiner sa  passion pour la musique et son rôle de porte-parole en présentant  un premier spectacle bénéfice : le « Benefit & Awareness show » pour l'EM/SFC. Depuis ce temps, cet événement annuel organisé par l'Opéra Mariposa a récolté plus de 80 000$ pour les soins, la recherche, l'éducation et le support apportés aux patients. De plus, l'histoire de Jacqueline Ko a été racontée dans le livre «Lighting Up a Hidden World: CFS and ME » par Valerie Free. CFS and ME by Valerie Free. Nous sommes ravis que Jacqueline appuie publiquement la fondation de l'OMF et de l'OMF Canada et nous avons très hâte de travailler avec elle à continuer de sensibiliser la population à notre cause.
En plus de devenir la porte-parole canadienne de la fondation de l'OMF, Jacqueline continuera à soulever les enjeux de ceux vivant avec une invalidité et à soutenir leurs causes à travers son travail  avec l'Opéra Mariposa. Sa compagnie favorise l'emploi d'un casting diversifié, s'assure de donner des prestations accessibles pour tous,  et diffuse plusieurs de leurs spectacles  sur le web gratuitement, une occasion inespérée pour les patients atteints de EM/SFC du monde entier de pouvoir profiter d'une performance musicale en direct dans leur chez-soi. La prochaine production présentée par le Mariposa sera l'opéra-comique italien "Gianni Schicchi" par Puccini et sera sur scène du 15 au 23 novembre 2019. Pour en savoir plus, visitez le site web de l'Opéra Mariposa. N'hésitez pas à vous connecter avec Jacqueline et Mariposa sur les réseaux sociaux.  Source photo: Kathryn Nickford Photography.
Suivez Jacqueline Ko: Facebook | Twitter | Instagram
Suivez Opera Mariposa: Website | Facebook | Twitter | Instagram | YouTube